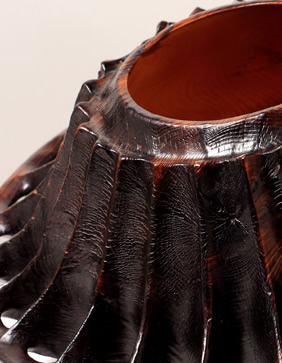 Artist statement
I am a professional woodturner living and working in rural Scotland, producing wooden vessels and sculptures from my workshop in Perthshire. I have always strived to produce work of the highest quality and integrity using locally sourced native wood. I have been in the Register of Professional Turners since 1999 and have exhibited widely throughout the UK and have work in the permanent collections of the Shipley Art Gallery as well as the Scottish Parliament.

I have had numerous professions before becoming a woodturner, including; fisherman, busker, carpenter and chef. I still have many interests outside woodturning and in my free time I'm a keen gardener, forager and preserver of wild food as well as a DJ and semiprofessional photographer. All these interests contribute to and influence my creativity as a woodturner as I continually draw on my surroundings for inspiration.

Over the years I have developed many unique tools and techniques and now offer one to three day courses from my workshop in Perthshire. I am also available for demonstrations.

My woodturning can be viewed in galleries throughout Scotland or from my workshop in Perthshire. If you wish to purchase work from me directly please contact me for directions and opening times or images of available work. My photography can also be viewed by following the links on the contact page.